Combination Sifter Machine Instruction Part Three
2022-04-23
Transportation, installation, adjustment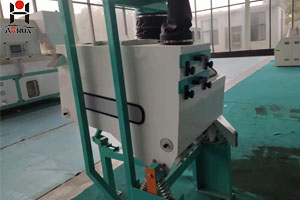 1、Transportation
For safety in transport, the screen body is fastened with fastening plates with yellow paint markings attached to the frame. They must be removed before the machine is started! The machine must never be transported or lifted without these yellow angles installed, in order to avoid damage to the springs. In order to lift the machine, there are two holes for lifting hooks on the yellow angles at the discharge end of the machine. In addition the machine can also be lifted by using lifting ropes around the 3 supporting feet of the machine. The operation should be safe and reliable.
2、Installation (see rear foot size diagram)
Two circular screws at the top of the machine for lifting and transporting the machine. After the machine is in position, remove the yellow transport fastening plates at both ends of the machine to make the machine in a horizontal position, fix the machine on the floor with the foot screws, connect the inlet and outlet skid pipes, and put the stone and impurity collection pipes in position.
Note: rubber soft casing should be installed on each of the two discharge ports, the lower part of the casing is clamped with two bolts and ensure air tightness and flow of material, the suction duct at the top of the machine is connected with the suction pipe with rubber gasket. Connect the power supply by qualified electrical technician to ensure that the two motors are energized and disconnected at the same time, the grounding wire must be installed, and the two motors are turned in opposite directions (as shown by arrows on the machine).