Operation manual Of AHCTS Series sifter2
2022-03-06
AHCTS series drawer type sifter is designed and manufactured by our company.
It is a new product developed by our company on the basis of the original flat screen according to the market demand. It is a more efficient rotary and grading equipment. The single screen area is larger, So can save much space than the traditional high square plansifter, Pull&out drawer type design it is easier to clean.The equipment is widely used in grading and impurities removing of flour, food, pharmaceutical, feed, chemical, starch, mine and other industries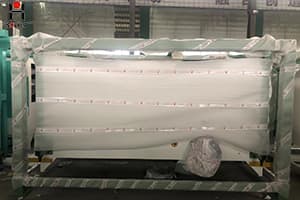 1.1Usage:
1.Mainly be used after ultra fine to removal of miscellaneous.
2.It can be used in other grain processing plants to sift and classify powder.
3.It can be used for sieving and grading in rice mills and feed mills.
4.It can be used in other fields of powder sieving and grading.For example,
graphite, glucose, starch, salt, chemical industry, wine, medicine and other powder grading and sifting.
1.2 Characteristic:
1.It is designed with metal screen body, there are four layers, and motor installed under the body. Self-balancing rotation.
2.Reasonable, simple, suitable material, strong and durable structure.
Excellent appearance, it is easy to operate and maintain, small noise, easy to operate and maintain, sophisticated manufacturing.
3. Simple, reliable and durable sieve frame, no channel leakage, the sieve box
is made of Q235 carbon steel plate, makes the machine high strength, good rigidity.
4.Square sieve is appropriate size, easy installation and disassembly.
5.Reasonable parameters, high rotation speed, small radius of rotation, high sieve efficiency.
6.Adopt with high quality car transmission shaft hanging, more stable use, work more safe and reliable.
7.Small volume, the most suitable for simple screening of powder granule,sifting out a variety of materials to meet the different requirementsprocesses.
8.The whole machine covers a small area and a small working space, which is very suitable for installation in a narrow place in the workshop.
9.All parts of the screen box have strict size, compact structure, good sealing and no channel leakage.
10.The screen box using large, large flow screen, screen area than theordinary screen increased by 30%