operation-manual-of-ahcts-series-sifter3
2022-03-06
3.1Structure:
AHCTS series drawer type sifter is mainly composed of machine body, sieve body. sieve frame, transmission mechanism, hanging mechanism and frame pressing mechanism.Machine body is made of welded square steel pipe, used for fixing equipment and hanging sieve body. The sieve body is the main part of the machine, and the inside is the superimposed sieve frame.Sieving frame is the main part of sifting.The transmission mechanism is composed of a motor, a weighted block and other transmission accessories, which are used to drive the sieve body to make plane rotary motion.The hanging mechanism adopts the hoisting mode of high quality automobile driving shaft, and it can make the sieve body small swing distance and short swing time when starting and stopping the machine.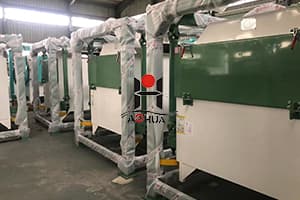 3.2Working principle:
When powered on, the motor drives the weighted block at the lower part of the sieve body to make a plane rotary motion. According to the principle of mechanics, the sieve body moves round at the same time under the universal joint hanging. After the material enters the sieve body through the feeding port, it is uniformly covered on the sieve surface under the combined action of the feeding pressure, gravity and centrifugal force. Due to different size and specific gravity of the material, small particles pass through the screen inside the screen to become the under size material, while large particles can not pass through the screen to become the overflow parts, they are discharged from the lower part of the screen outlet separately.Through the usage of different specifications of the screen, the material can be divided into different size materials.