Operation manual of ahcts series sifter5
2022-03-12
Operation
5.1 Notes before commissioning:
(1) Power connection. The equipment has no special requirements on the
rotation direction of the sieve body. If the workshop has an automatic control
system, please ensure that the equipment cannot be restarted within 5 minutes after the shutdown, so as to avoid damage to the equipment caused by starting
when the screen moves.The cable should have a free length of bending from
the screen body to the frame, and should not be too tight, otherwise the screen
body will break off the wire after operation. No friction should be created between the cable and equipment.
(2)Remove the steel plate . At this point the sieve body is in a free suspended state, the sieve body can swing freely.
(3)Check whether the screen body is horizontal. If the screen body is not level, adjust the screen body to ensure it is in level, and then tighten the bolts.
(4)Check the tightness of four universal joint bolts, and make the four universal joint hanging in a uniform state of stress.
(5)Check whether the bolts of the universal joint hanging which connect with
the joint of the frame and the sieve body are loose or not. If they are loose, tighten them immediately.
(6)Check and ensure that no tools or scraps are left in or on the equipment.
(7)Stretch the triangular belt to a normal level.
(8)Check whether the sieve is pressed tightly and whether the screen door of sieves is tightly sealed.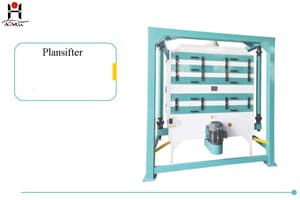 5.2 Turn on the equipment
(1)The sieve body shall be strictly at rest state. And make sure that every time the screen is turned on it is completely motionless.
(2)Turn on the device.The machine must be started completely at one time
and inching is not allowed. After running for several hours, check the rotary diameter. If it is not correct, it should be adjusted in time.

5.3.Smooth operation of the equipment after a period of time can be put into production! Please note that the equipment should be started before feeding;When stop, should stop feeding first, stop again.