Market overview of quinoa
2022-04-09
Market overview of quinoa
At present, the purchase price of raw quinoa grain in China is about 10-12 RMB/kg, and the price of processed quinoa rice varies widely, ranging from 30-200 RMB/kg. The sales of quinoa products in China are mostly based on e-commerce, of which Taobao is the main sales platform, and a small amount of sales are also available in Jingdong and other e-commerce platforms. There are few physical sales stores of quinoa in China. At the first China Quinoa Industry (Changchun) Summit Forum, Anhui Yanzifang Company said it will soon launch quinoa products and put them on the shelves of more than 2,000 supermarkets it cooperates with, so quinoa is expected to enter people's table soon. China has been producing quinoa on a large scale since 2008, but no large-scale quinoa sales market has been formed yet. According to the estimated quinoa planting area of 3333.33hm2 in 2015, the average yield is about 2250kg/hm2, and the total processing into quinoa rice is about 5000t, which is sold at 120 RMB/kg, with a production value of about 600 million RMB. On the one hand, quinoa cultivation can obtain certain subsidies from the government, which reduces the initial production cost investment; on the other hand, farmers can obtain higher economic income from quinoa cultivation, which increases their cultivation enthusiasm. As a crop with both nutritional and ecological values, quinoa will certainly be a major contributor to the development of
As a crop with both nutritional and ecological values, quinoa will play an important role in the implementation of the agricultural policy of "adjusting the structure, changing the mode, and ensuring income growth". With the improvement of people's living standard and the change of consumption concept, green and organic food without pollution and good for health is more and more favored by people.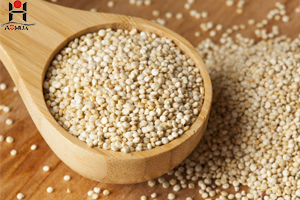 Countries such as Peru and Bolivia have significantly increased the sales price of quinoa through organic food certification. Quinoa itself has the physiological characteristics of infertile and The physiological characteristics of quinoa are resistant to pests and diseases, and the growth process requires almost no chemical fertilizers and pesticides, making it easy to achieve green and organic certification. At present, the Green and organic certification will certainly make the economic benefits of quinoa more significant.