Operation manual of ahcts series sifter 8
2022-03-19
Maintenance
8.1.Lubrication and maintenance of bearings
The grease shall be replaced every three months or 2,000 hours of operation. The oil gun shall be used for refueling. The oil injection hole shall be located on the bearing end cover of the upper and lower sides of the transmission shaft in the middle of the sieve body.Two bearings should be cleaned once a year to remove expired grease and small scrap iron and other impurities, and then injected with new grease.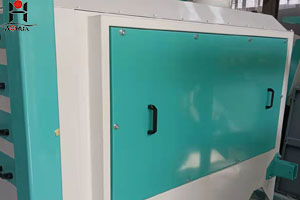 8.2.Maintenance of triangular belts
The triangular belt must be maintained in a standard elastic condition at all times.The equipment should be checked once a month after the first operation and once every half a year thereafter.When replacing worn triangular belt, it is necessary to clean up the debris stuck in the belt pulley groove and adjust the center distance between the motor and the large belt pulley until the belt has appropriate tension.